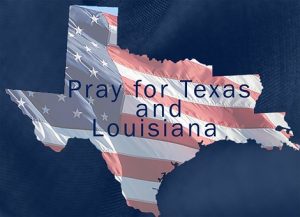 Our thoughts and prayers go out to those affected by the devastation of Hurricane Harvey. In this time of crisis, as thousands of people in Houston and along the Gulf Coast have been displaced, they need the country's support more than ever. It is in our human nature to want to help those in need, and the outpouring of generosity I have already been reading about is evidence of that. While Hurricane Harvey continues to wreak havoc on the Gulf Coast, there are many organizations doing critical work to save lives and comfort those affected.
If you are wanting to help through giving, it is important to know how best to give, and this includes asking questions about what the charity you choose will be doing with your donation. We recommend that you do not just write checks, but find out what percentage of your dollar will go directly to victims and what exactly will be done with your gift.
Giving to food banks, groups providing fuel sources, and animal rescue organizations who are on the ground are a few examples of great ways to help victims directly. A great tool to use if you have questions about an organization is Charity Navigator, which examines each individual charity and even rates them based on effectiveness.
I have done some research and am attaching links to some of the organizations that we believe will best get any donations straight to those in need. There are many other options, we just ask that you first identify what cause you wish to focus on, and research the charities before giving.
1) This YouCaring crowdfund is organized by J.J. Watt, a Houston native, who is doing all he can to ensure it goes directly to helping those affected.
2) The Cantor Fitzgerald Relief Fund is helping with direct financial aid to Harvey's victims.
3) Feeding Texas is a food bank, where the proceeds go right to the member food banks to provide food and supplies to the families.
4) Houston Humane Society is an organization and others are helping animals suffering from the disaster.
5) The Salvation Army has been on the ground in Houston handing out clothes and water to first responders and victims.
Kane Insurance Group, LLC will match donations made to any of the above charities, up to a maximum of $250. Please leave a reply below or email us at info@kaneig.com telling us how much you gave and to which charity.